---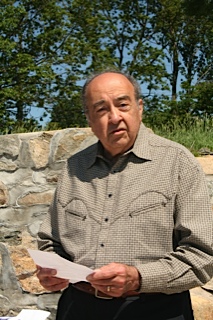 ABOUT DR. SPRECACE AND THIS SITE
ANNOUNCING
OUR 60TH YEAR OF MEDICAL PRACTICE AND EXPERIENCE – AND COUNTING.
Practice of Allergy / Immunology and Chest Diseases
Adult and Pediatric
(Special emphasis on Bronchial Asthma and Chronic Bronchitis)
Assisted for decades by a professional and caring staff:
Judy Graziano, R.N., since 1964
Mary Ann Richard, C.M.A., since 1966
Erica McCaffery, R.N.
Colleen Graziano
Alma Peterson, R.N. ret.
Jeanette Theiler, R.N., M.S.N.
Karen Mullins, RN
Kayla Boyd
Practice of Health Law Since 1984
Member of Connecticut Bar
Dr. Sprecace is a certified Internist and Allergist in private practice in New London, Ct.
Since 1963.
Married for 50 years to Therese before his wife's passing, they raised five children.
He is Associate Clinical Professor of Medicine at Yale University School of Medicine, and
Chief of the Allergy / Immunology Service at Lawrence and Memorial Hospital.
He served in the U.S. Army Medical Corps, and also served in elected public office.
He has been President of New London Maritime Society since 2008.
THIS WEB SITE IS DESIGNED TO INFORM AND CHALLENGE THE PUBLIC.


A PHILOSOPHY FOR LIFE
"THE THREE BEST DOCTORS ARE DOCTOR DIET, DOCTOR QUIET, AND DOCTOR MERRYMAN." JONATHAN SWIFT.
"AS LIFE IS ACTION AND PASSION, IT IS REQUIRED OF A MAN THAT HE SHOULD SHARE THE PASSION AND ACTION OF HIS TIMES AT PERIL OF BEING JUDGED NOT TO HAVE LIVED." OLIVER WENDELL HOLMES.
"FOR BETTER IT IS TO DARE MIGHTY THINGS, TO WIN GLORIOUS TRIUMPHS, EVEN THOUGH CHECKERED BY FAILURE, THAN TO TAKE RANK WITH THOSE POOR SPIRITS WHO NEITHER ENJOY MUCH NOR SUFFER MUCH, BECAUSE THEY LIVE IN THE TWILIGHT THAT KNOWS NOT VICTORY OR DEFEAT." Theodore Roosevelt.
"ADVERSITY IS THE PRICE TO BE PAID FOR PRINCIPLE". (UNKNOWN).
"A WARRIOR'S SONG: 'LIFE HAS MEANING ONLY IN THE STRUGGLE. VICTORY OR DEFEAT LIES IN THE HANDS OF THE GODS. SO LET US CELEBRATE THE STRUGGLE'". (UNKNOWN).
FAMILY, AND PRAYER.